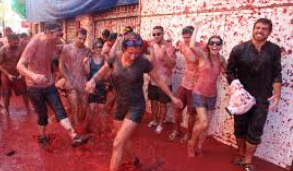 Each year, on the last Wednesday in August, there is a giant food fight in Bunol, Spain. The town's population grows from 9,000 to 20,000 as revellers come to enjoy the festival.
It starts from about 11am, when lots of trucks bring the tomatoes to the town centre, Plaza del Pueblo.
Now, the festival isn't supposed to start until someone has reached the top of a greased-up wooden pole that's two stories high, where a ham sits. This can take quite a long time, and the festival usually begins even if someone doesn't reach the ham.
Once the water cannons are fired, the battle is on! It can get quite rough, so be sure to look after your friends and yourself as best you can. Have a designated meeting place for after the fight, in case you all get seperated.
The fight finishes within an hour, and no more tomatoes are allowed to be thrown once it's over. Most stores that are in the firing line put up plastic sheeting to protect their shopfronts, and to make cleanup much easier.
Fire trucks are used to clean the streets, but don't be surprised if they're more focused on doing that than helping you wash off. You can usually find some nice residents that will hose you as you pass by though.
You can stay in Bunol overnight, but you'll have to book your accommodation pretty far in advance due to the town's small size. A lot of travellers stay in towns outside of Bunol, like Valencia.
One of the biggest rules during the fight is that you must squash the tomatoes before you throw them, to make them hurt less when they hit people.
This is definitely a once in a lifetime experience for any traveller who likes doing things out of the ordinary. Make sure you have La Tomatina on your bucket list, and be prepared for the time of your life!